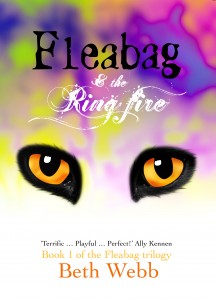 Fleabag is back! In a beautifully illustrated new edition!
He's got three legs, millions of fleas and serious cattitude. He's FLEABAG the alley cat who lives in the palace.
And he talks!
His favourite humans are Gemma the kitchen maid and the queen – who is dying.
The royal Ring with its strange Fire has been hidden. Gemma and Fleabag are sent on the dangerous quest to find it, protected by a cat-hating knight.
They're ambushed by Phelan the thief – who gives what can never be stolen.
'Laced with humour and dead rodents, Fleabag is terrific and perfect for young readers who love magical adventure, danger… and cats!' Ally Kennen, author of BEAST
'Fast-paced, packed with humour and magic.' School Library Journal
Read the opening chapters: http://www.bethwebb.co.uk/sites/default/files/chapters/Fleabag%20opening.pdf
http://www.youtube.com/watch?v=y7TaxmlCl8M
 ISBN 978-0-9576626-1-2
Available from all good bookshops and online from Amazon UK.
Paperback £6.99.